UK Longitudinal Linkage Collaboration

The UK Longitudinal Linkage Collaboration (UK LLC) is a new research infrastructure for the UK enabling researchers to use data from many longitudinal study data linked to health and administrative records to investigate the effects of COVID-19 and its implications for public health policy
What?
The UK Longitudinal Linkage Collaboration (UK LLC) has been set up to bring together study data from more than twenty of the UK's top longitudinal studies and link it with NHS COVID-19 data; education data; occupation data and information related to where people live. This will create a powerful research resource which provides a rich source of longitudinal data which will be kept updated as time goes on.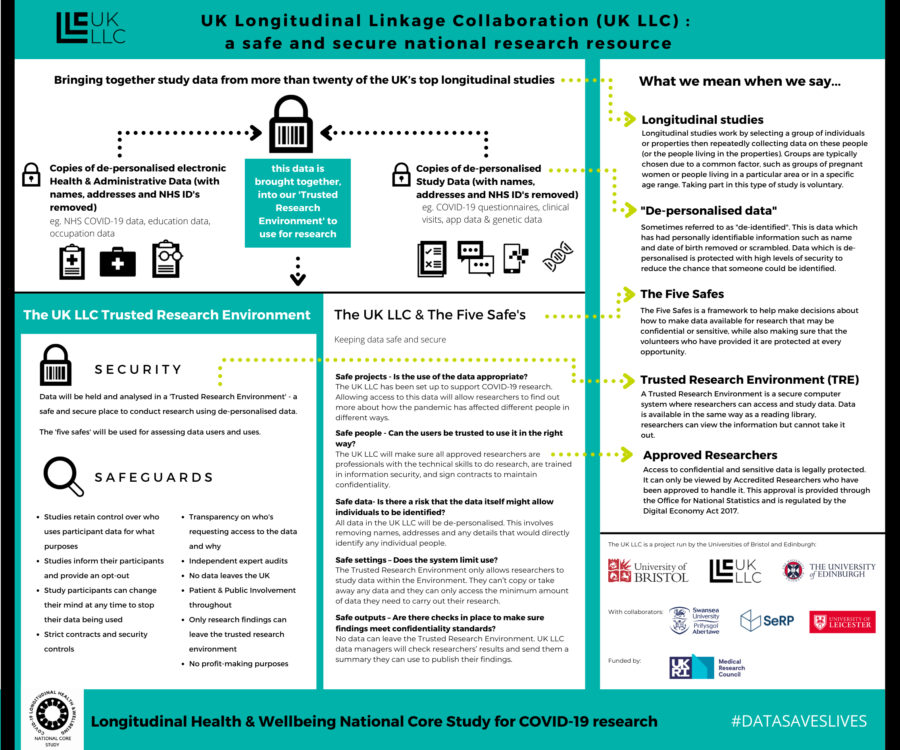 Why?
Researchers approved to access the linked data within the UK LLC will be able find out more about the impact of the COVID-19 pandemic than was ever possible before. This is because longitudinal studies have lots of detailed information about study participants' lives both before and during the pandemic.  Having a 'before and after' picture will allow researchers to examine the wider impact on health and wellbeing as a result of lockdown measures and the disruption to our health, financial and social systems. Researchers' findings will provide insights for policy makers and support changes to public health.
How?
Partner studies will send de-personalised study data through protected channels to the University of Bristol's secure research server. The studies and the UK LLC will use approved systems and work with NHS based trusted third parties. This will keep participants' data safe while allowing the data to be linked. Approved researchers will be able to apply to access selections of the data within the UK LLC through the HDR UK Gateway.